Barry and Trudy have lived most of their lives in the Tweed area and are true locals.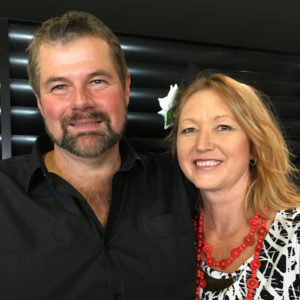 We first met at the local Tweed River High School before Barry joined the army in 1980 where he gained his trade that lead him to a successful career as a builder, property developer and later as a town planner. Trudy retired from working in local government for 17 years to become your host at Caba Break in 2018.
In 2013 we reconnected and now share our lives in Kingscliff in a creek-side property that was purchased by Barry's great grandparents for their Murwillumbah family to enjoy holidays at the beach.
Caba Break shares this same motivation; family holidays at the beach and so much more.
When Barry first spotted the vacant land in the heart of Cabarita Beach, he put on both his property developer and town planner hats; fantastic proximity to the beach and facilities, perfect dimensions for the carpark. Four years later Caba Break is a reality that we enjoy sharing with our guests.
A shared love of travel has inspired many of the features we included in Caba Break, light and breezy rooms, large entertainer kitchens, balconies with ocean and green views while a few travel lessons have also been addressed, losing our room key in Florence cost dearly, there are no keys, cards or fobs at Caba Break. Bathroom line ups; Caba Break has four showers and five toilets in each apartment and none of those nasty pull out lounge beds for your extra guests, up to 10, 20, 30 or 40 people will have a good night sleep under our roof depending on how many apartments you need.
We love to bring our family and friends together and that's what we want for you too. It's often difficult and expensive to find enough accommodation with additional space for a family or corporate event, that's where we have solved that problem too, our free Pandanus Room is only available to our guests. Where some venues provide a boring function room, ours is more funky to create a fun function room suitable for any purpose for up to 48 people and did we mention the 10 person spa pool and BBQ deck on the adjoining balcony?
Caba Break, Cabarita Beach and the surrounding area have so much to offer and we are here to help you make your stay everything you wish for.